Introduction: In recent years, "E-Bike" has become a hot word. According to a survey released by Forbes in 2019, the increase in consumer environmental awareness is a key driver of the development of the electric power-assisted bicycle market. Nowadays, more and more people understand the importance of reducing pollution, and this awareness makes them prefer greener transportation methods that minimize pollution. During the pandemic, people's need to keep their distance has further stimulated the booming development of the electric bicycle industry. Leading manufacturer Huaian PX Intelligent Manufacturing Co., Ltd. Company (hereinafter referred to as 'PXID') received the UL 2849 certificate for electric bicycles issued by UL in September 2023 for PXID.
PXID was established in 2013. It focused on the design and development of smart travel products in its early days, providing customers with one-stop product development services. After ten years of exploration in the field of electric mobility, we adhere to the core design concept of "taste, quality, and brand" It has created more than 100 travel products for users and enterprises around the world. Huaian PX Intelligent Manufacturing Co., Ltd. was established in 2020. It is a vehicle manufacturing enterprise with "industrial design" as its core driving force.
UL 2849 Certification: UL 2849 Certification is a highly sought-after certification that verifies the safety and performance of e-bikes. It ensures products meet stringent quality standards and comply with all relevant regulations and requirements. By achieving this certification, PXID demonstrates its commitment to building e-bikes that prioritize consumer safety and environmental sustainability.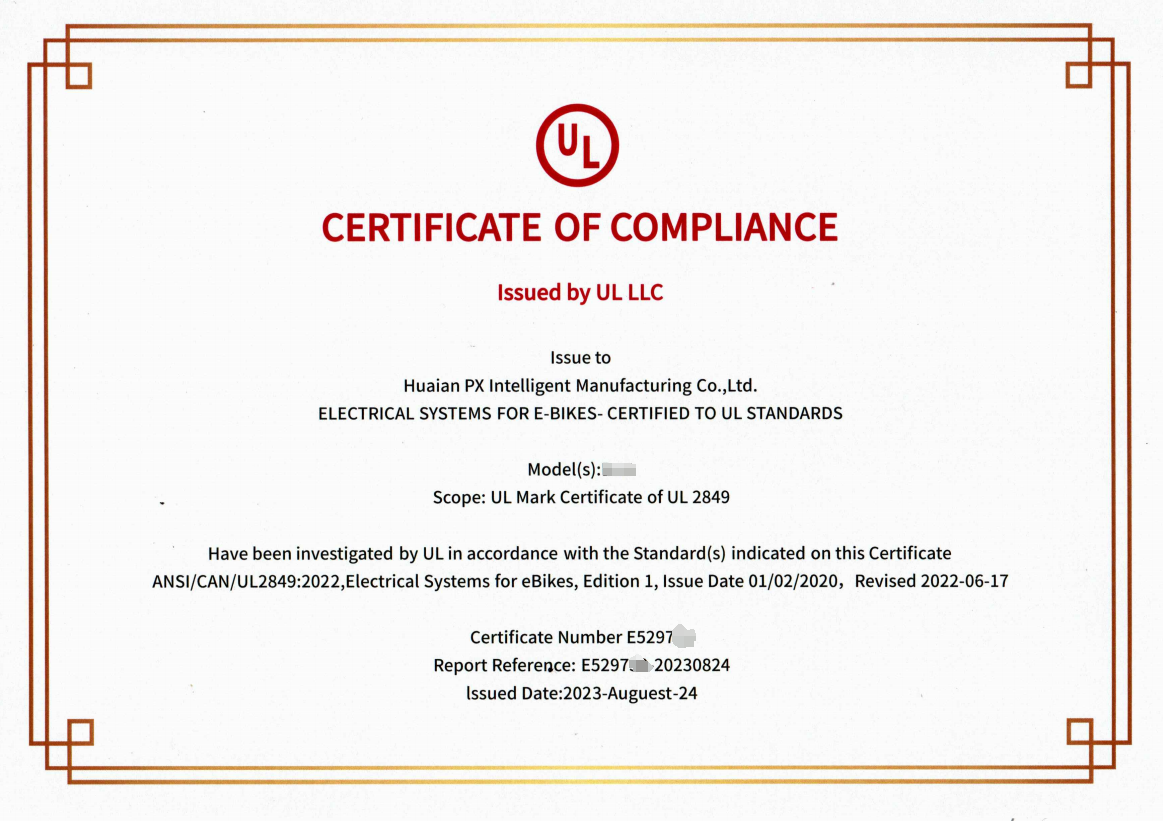 Mr. Feng Ruizhuan, General Manager of Huaian PX Intelligent Manufacturing Co., Ltd. And Ms. Liu Jingying, General Manager of UL Solutions Consumer Electronics and Medical Division in Mainland China and Hong Kong, and representatives from both parties attended the event.
Warm congratulations to the manufacturer of electric bicycles that our company develops and manufactures and obtains the UL 2849 for electric bicycles issued by the authoritative organization UL Solutions !
This prestigious certification underscores PXID's commitment to producing high-quality e-bikes and positions them as a critical player in the North American market. This recognition is a testament to PXID's commitment to safety, reliability, and innovation in the e-bike field.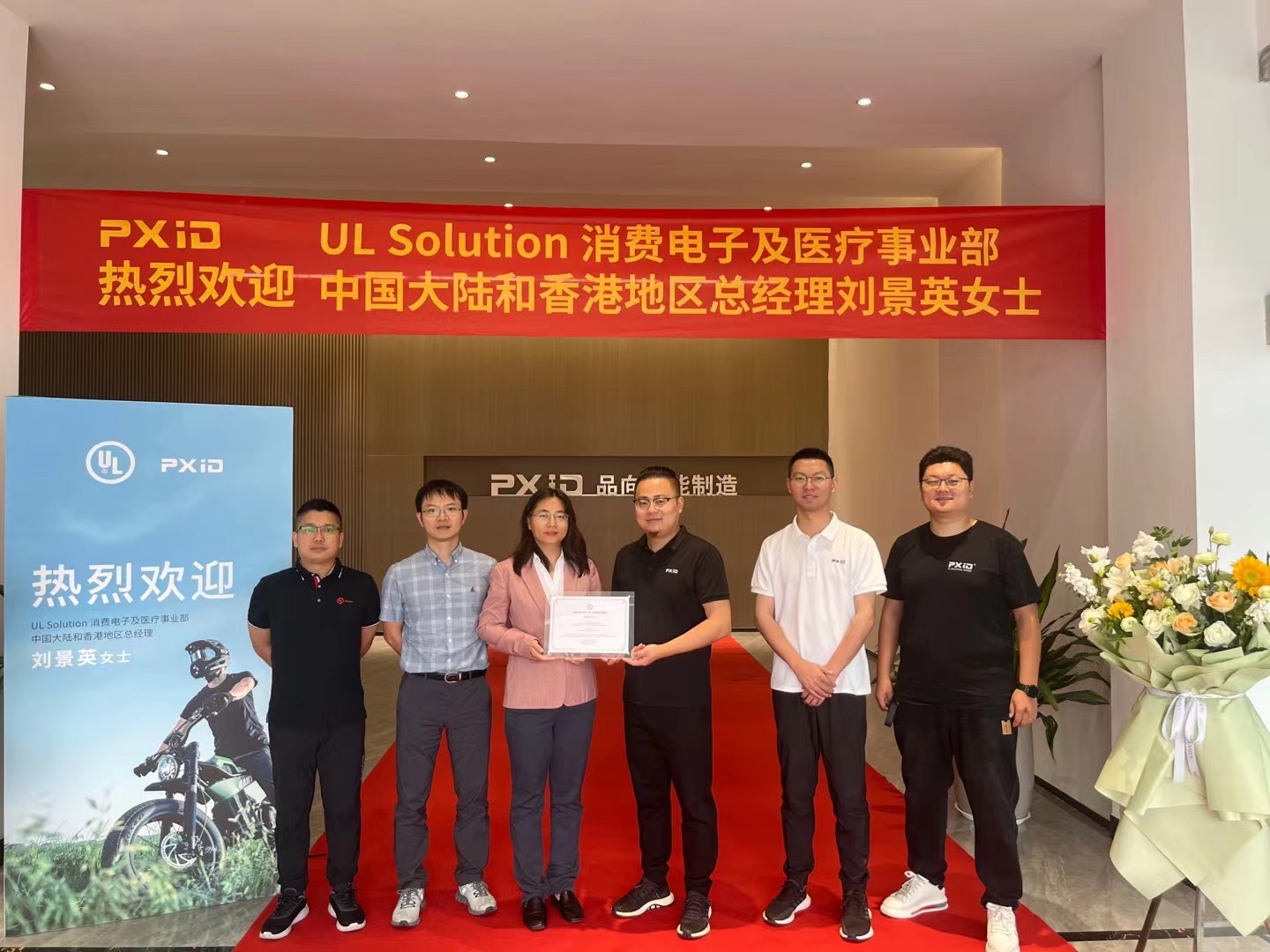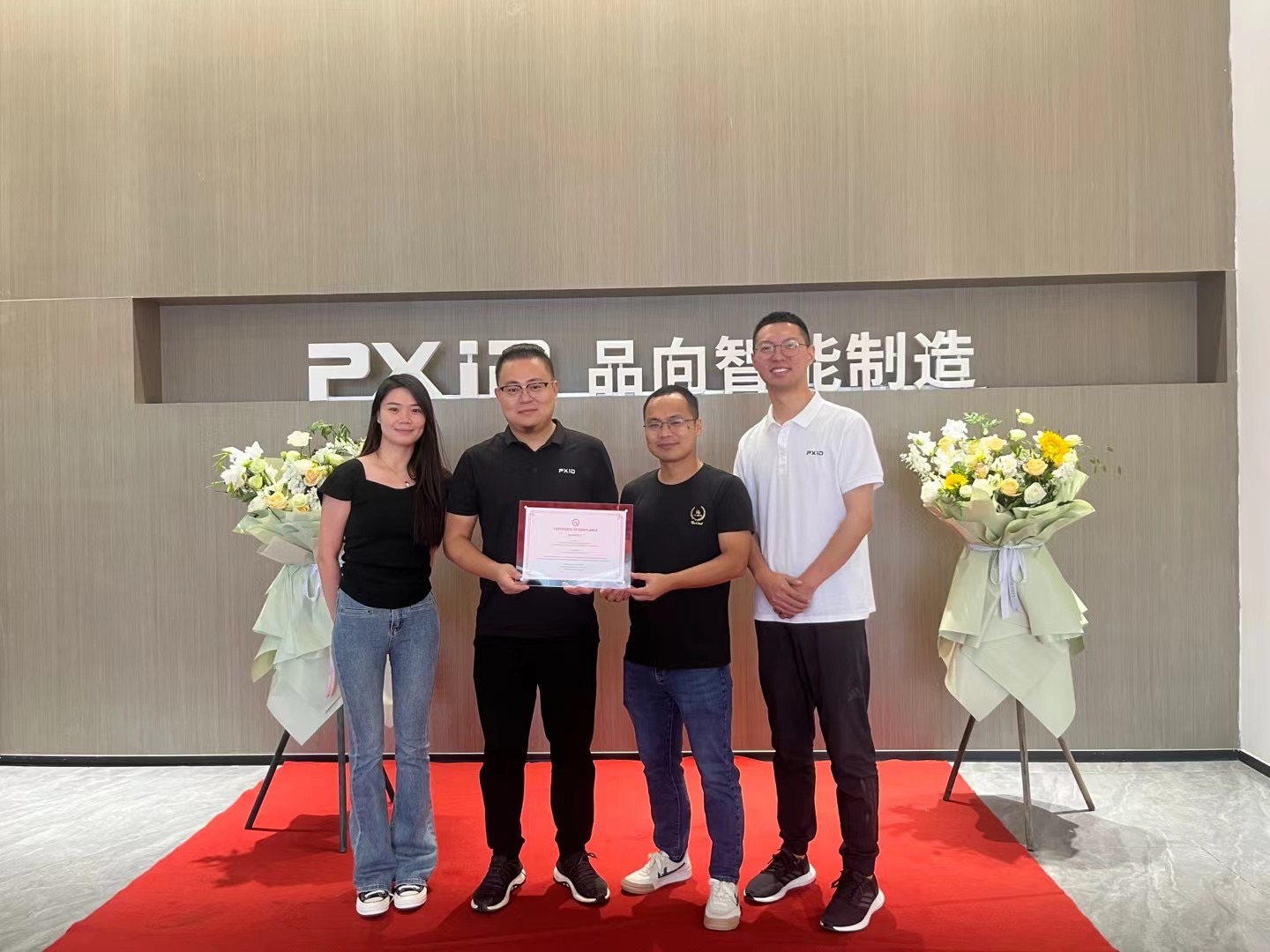 PXID's Commitment to Quality: PXID has always been known for its unwavering commitment to producing top-of-the-line electric bicycles. The UL 2849 certification serves as a testament to the PXID's dedication to delivering products that meet the highest industry standards. By adhering to rigorous quality control measures, And ensures that its electric bicycles are safe, reliable, and durable, providing customers with peace of mind and a superior riding experience.
PXID's e-bikes offer a sustainable and environmentally friendly alternative to traditional transportation.Perfectly meeting North America's growing demand for environmentally friendly, efficient, mobile solutions.
Conclusion: PXID's achievement of the UL 2849 certification is a significant milestone that highlights PXID's commitment to excellence in the electric bicycle industry. By meeting rigorous safety and performance standards, PXID has positioned itself as a trusted manufacturer in the North American market. As the demand for electric bicycles continues to grow, PXID's high-quality products and commitment to customer satisfaction are our top priority.
At the same time, PXID has also set up a professional QC team to operate electric bicycle and electric scooter laboratories,strengthen the inspection and testing of parts, semi-finished products, and finished products, which greatly improves the quality of the products.
Here's what's in the PXID lab: